From Informationism
Happy New Year. I thought this would be a good time to start a new blog page. You can see the old one here
New Blog page
23 June 2007 - I've got a new blog page here
I'll get round to updating the links at some point User:Informa3_Seoul_blog
Incheon Webcam
I set up this webcam looking out the apartment window. I used to have it on quite a bit, now I update it every few days or whenever I get round to.
---
18 Apr 2007
A new 'Korean shame' Category: News and Politics
I've been on the road, not much time for myspace, but when I heard the news about 'Cho' I just had to blog about it (even though I'm on an intolerably show dialup connection)
But anyway I can just imagine in Korea when news of the shooting emerged that Koreans would have kind of unsurprised but superior because that's just the kind of thing that happens in America. But when they found out that it was a Korean that did it, it would be complete shock because that is just so at odds with th image that Koreans have of themselves. Americans are supposed to commit crimes in Korea God damn it. Not the other way round! Koreans are the good immigrants. "You'll never see a Korean begger in L.A" I've been told. The things is that Koreans don't understand these things with a western perspective of 'anyone could do it' whereas Koreans see it in terms of triumph or shame. I mean he's been in America long enough to count as American by most peoples standards but since Koreans like to 'claim' people with any amount of ancestory, they can hardly deny this guy who actually is a Korean national. This may sound anti Korean, but I think I lived there long enough to understand some of the mentality.
...and the fact that one English word that all South Korean kids know is "headshot" (from computer games).
A short comment coming to you from beautiful Golden Bay, New Zealand.
3/3/07 Went to the DMZ
Yeah, we went to the DMZ - It was cool, I've uploaded the photos, I've just named them. Here's my fave for you:

He's from North Korea and he's very happy to meet you.

There rest are here: DMZ
2/3/07 - The ski movies
I'm going to the DMZ early tomorrow but before I do that I thought I'd put the ski movies on:
File:SANY0088.MP4
File:SANY0091.MP4
File:SANY0092.MP4

You'll probably have to right click and save to watch each one. Otherwise you might get a screen full of letters
27/2/07 - Simone goes to a presentation about the Incheon English free zone (in Korean)
Some photos of a New Year's ritual...
22/1/07 - Photos from last Saturday
12/1/07 - Wolmido
We finally made it to Wolmido and 'Mt Wolmi' (it's 108 meters high)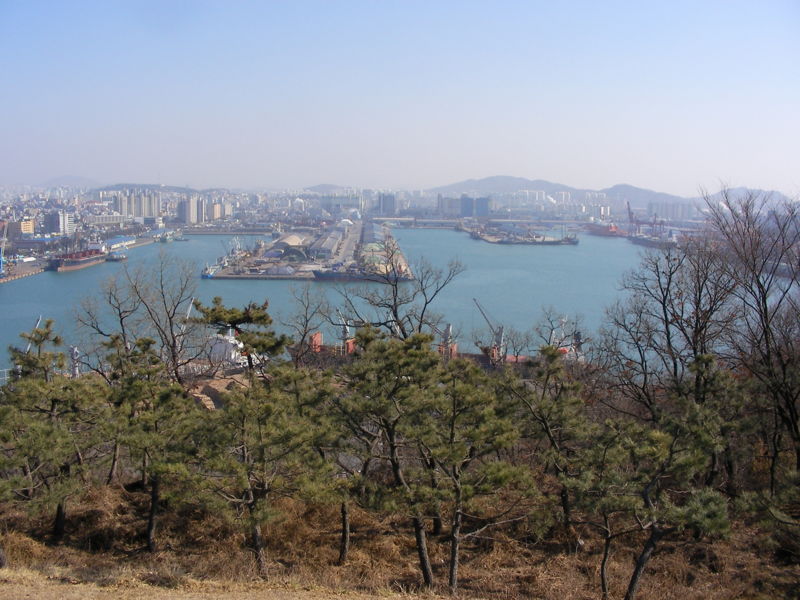 The view from Mt Wolmi.
Wolmido Pictures
Playing catchup with my Photos
Other pictures
The English village
Just like Hollywood. Spot the machine gun bunker. It's there because it's near the DMZ
10/1/07 How to insult people in English
31/1/07 - Picked up my passport
I picked up my passport at the British Embassy today. Yay! I've been waiting for this day for a long time.
Later I went to a flea market and there was a guy selling stacks of vinyl records that I just couldn't resist taking a look at. He had some really good ones. I bought the Deliverance sound track and a Beatles album with funny spelling mistakes that I'll try and scan later. I was going to buy the Beatles White album but the guy said "Not for sale' and point to where it had been signed. Well that being the case, what the hell was he doing with a signed copy of the White album at a flea market in Seoul?
Crazy English teaching position of the day
Recommended Position A:
Chinese People's Armed Police University
( It is conveniently located within one hour on road to Beijing city.)
The Chinese People¡?s Armed Police University was founded and ratified by the State council in 1981, which practices a kind of regular militarized management. The University is under the direct lead of the Ministry of the Public Security. It is the only institution and training base, which fosters commanding, management and specialized technical police officers for the border control, fire protection and security guards.
29/1/07 - Incheon University
Today was my first day off of my one week vacation. I've got many things to do and I've got a backlog of photos to put up so I thought I'd start with this. I rode out to Incheon university to submit my CV. It has some quite monolithic and weird architecture.
27/1/07 - Skiing at Yongpeong
We went on a trip with Gonnsee to Yongpeong. It's the biggest ski field in Korea.
http://www.yongpyong.co.kr/eng/

The accommodation we didn't stay in.

Simona on skis
23/1/07 - My birthday
We went to Seoul for dinner. The next day a student gave me this:
18/1/07 - Traditional Korean Wedding pictures and videos

Look what he's standing on.
http://www.informationism.org/postphilosophy/video/SANY0040.MP4
http://www.informationism.org/postphilosophy/video/SANY0044.MP4
http://www.informationism.org/postphilosophy/video/SANY0046.MP4
http://www.informationism.org/postphilosophy/video/SANY0047.MP4
To play the videos you may need to 'right click' and select 'save'.
16/1/07 - Simona's Birthday
It's Simona's birthday today. Here's a lovely picture of her at a traditional Korean wedding in Daejeon.
happy birthday dear Simona, happy birthday to you!
10/1/07 - Incheon in colour
This is from when I was testing out my new camera
9/1/07 - Out of focus pictures
Went to Suwon in the weekend and I'll have some on that soon but first I thought I'd put up these: My camera was on manual focus and I didn't realise it at the time.

Yeah it's pretty amazing how you have the most modern technology and old ways of doing things exist side by side in Korea.



5/1/07 - Korean comic book
Keep on clicking on the images below until they get big enough for you to view.
4/1/07 Massive structural failure
They have these indoor golf driving ranges in Korea all over the place. This is what happens when golf driving ranges turn bad:
3/1/07 Mor Mans
I was at my excellent local bicycle shop opposite my school in Dong Incheon when I turned around and and saw these two guys staring at me sort of dumbfounded. I'm used to that with Koreans, but these guys were Americans.
They were Mor-man missionaries and I think they'd been about to try and preach to me, if I hadn't surprised them by being of European ancestry.
One said "I'm sorry we just don't see too many [pause] people who aren't Korean.
"Yeah, I just work at that school over there" I said pointing. Then I asked them if they spoke Korean. "A little, we try" one of them said.
I couldn't think of much else appropriate to say, although I had a fair few things bubbling in my head.
I've always wondered how much hope those Mormons would have in a country where the primary means of social communication is though alcohol. We said a few pleasantries and they left.
2/1/07 The "International Shameful"
The Korea Times is usually pretty good for an English language paper that's written by people who speak English as a second language. However in this case one slipped through that's hilarious in both content and form. It also highlights the Korean attitude that they are pure, whereas westerners are seen as more uninhibited and lustful. This is a country where there's more prostitution than I've ever seen in my life before.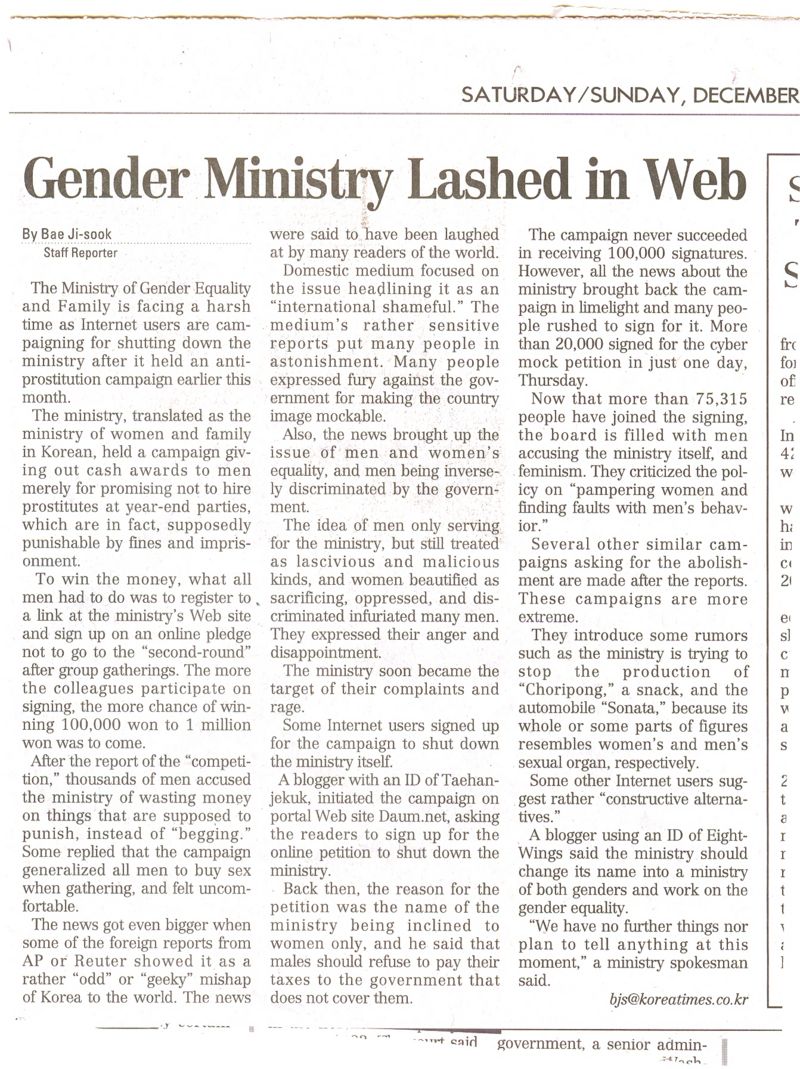 Above: Best read aloud.
1/1/07
Suffered from slight jetlag today from being up so late. It was 'all you an drink' including spirits at FF bar in Seoul. Alcohol was free upon entry, but you had to pay for water. I've now been to a place where Tequila is cheaper than water.
More!? - 2006 etc
You want to go further back in time than that? Ok then click here